As far as painting ceilings goes, there are so many subtle shades that you can choose from as well as classic white for your walls. However, there is no right or wrong way to paint a ceiling.
It is very important to know about all of your options because if you overlook them, you might be making a mistake that stays with you for many years to come. The following tips will help you choose a ceiling paint colour that best suits your design, whether you prefer a ceiling that blends in with your walls, coordinates with them or contrasts with them.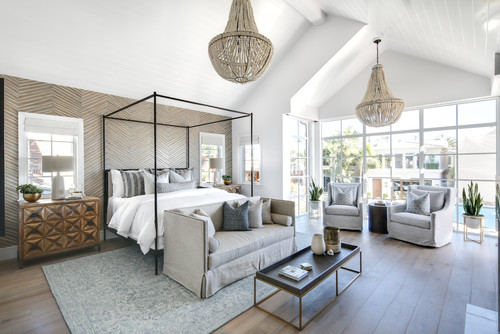 1. White Ceilings
As far as coating the ceiling with a crisp white paint goes, it is easily one of the most popular and safest options, and it certainly isn't a bad colour choice to stick with. Yet there are many elements involved in getting a crisp white paint finish.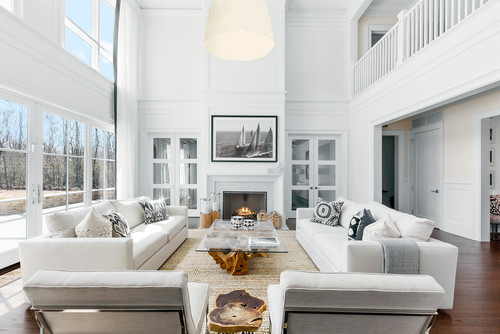 Generally speaking, when you have a room with white walls without any noticeable undertones, a similarly untinted white ceiling will also work well in creating the illusion of a gallery-like experience.
There are, however, certain things to take into consideration if your walls aren't pure white. For instance, you need to consider how the tones of the two surfaces will appear next to each other, whether to match or contrast or whether to go somewhere in between.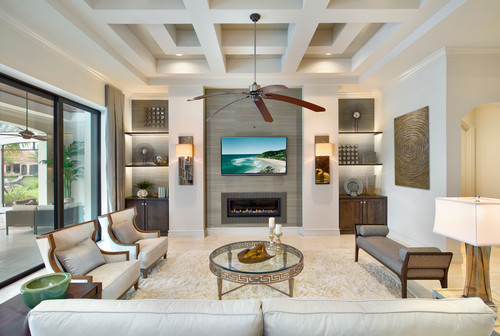 2. Ceilings That Match the Walls
Choosing an off-white or watered-down shade of white as the colour of your walls is the easiest way to create that natural warm tone you want, and the best solution is to use the same shade to paint the ceiling as well. In the example above, you can see that the walls and ceiling are all the same shade of white, as a result giving the room a bit of texture.
By using the same colour on both the walls and the ceiling, the visual emphasis is placed on the other features of the room, such as furnishings, architectural elements, and artwork, instead of the points where surfaces meet.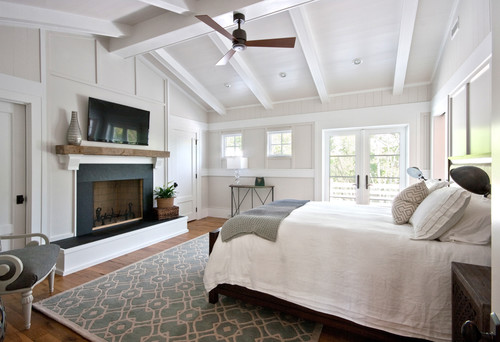 Even if there happens to be bright white moldings that break up the walls and ceiling, the ceiling will blend away and the eye will be able to take in the moldings better if there is little contrast between them.
The use of the same pale neutral colour throughout the home lends a sense of serenity and welcoming to the whole interior, especially when said neutral colour is used throughout the entire home for a sense of consistency.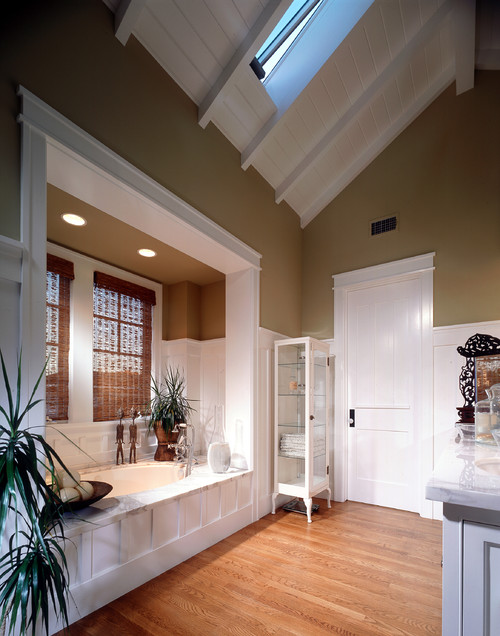 That being said, the richer your choice of colour, the more likely it is that it will shrink the space when it is applied to the ceiling. If you have a tall room or wish to create a comfortable atmosphere in your space, then you don't have to worry about this.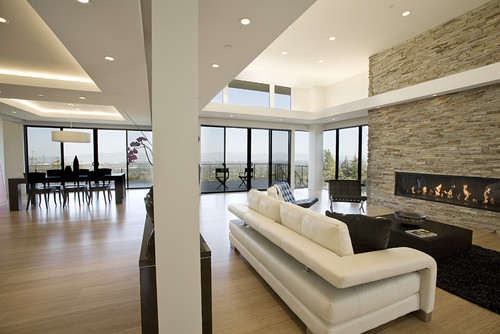 3. Ceilings Tinted to Coordinate With the Walls
In order to make sure that the ceiling colour coordinates well with the wall colour, you can tint it just a little bit with a shade of the wall colour, whether it is a rich neutral or a bright hue. In the case of a rich buttery cream wall, you might want to choose a ceiling white that has a hint of the same yellow undertone if you are going to use it for the walls.
Several methods can be used to achieve this effect. One would be to pour a little bit of the wall paint into a can of white ceiling paint, stir well, then use this as the new tinted shade from which to choose.
The disadvantage to that method is that you do not have any control over how the final shade will turn out. You are not able to predict how it will turn out on the first try, and it may even be too dark or barely tinted after the first attempt. It may take some remixing to get it to the right shade.
There is also the problem that you will never be able to get a second can of the exact same colour either for future touch-ups or because you ran out of the first batch in the middle of the painting process.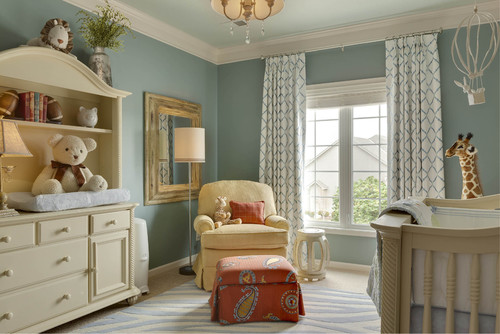 In some cases, depending on your style, you may be better off choosing a paler shade of your wall colour from the same family. Choosing what's essentially a lighter shade of your wall colour guarantees that it will look coordinated.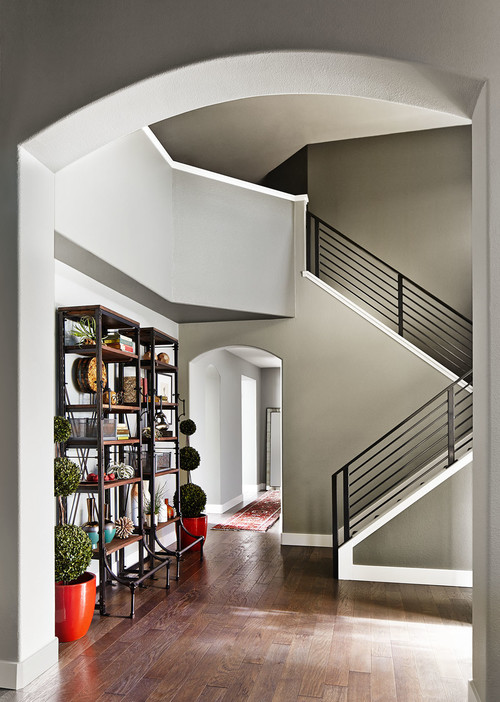 When it comes to bold hues, you may not be able to choose one off-white shade from the same paint chip and use it on your wall. However, you can consult with a painting professional or speak with a knowledgeable paint store associate to get a custom formulation based on the colours in the wall.
Then you can swatch it at home, if it does not work, then it can easily be adjusted much more easily than if you were to make your own concoctions.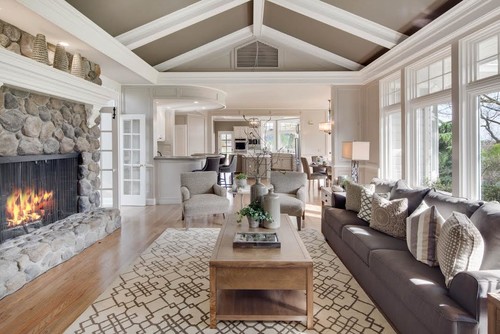 4. Ceilings Darker Than the Walls
Adding the same tint to paints can have the opposite effect of highlighting the architecture and making the room feel more intimate as well. This can be more clearly seen in the dark colour used in the ceiling cove in this dining room.
It is important to note, however, that this accent shade was not selected at random. Its tones match the colour present in the walls, and also those found in the white trim on the doors and moldings of the home. There is a good chance that the choice in trim colour was selected at the same time as the ceiling colour, so as not to conflict subtly with one another.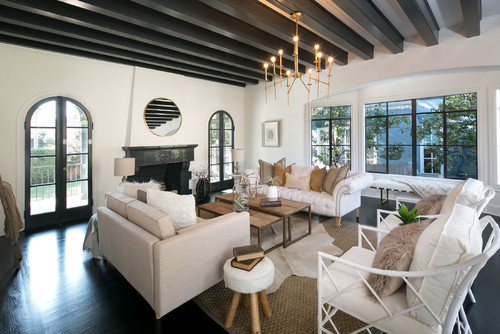 By juxtaposing the walls in darkness without using any colour undertones, it creates an atmosphere that is very livable. Therefore, a very neutral gray is a great choice for those who would like to do a dark ceiling, but they are not willing to take on such a big colour risk (particularly in areas where repainting is not as easy as it is on most walls).
When it comes to choosing a neutral gray in the store, it is sometimes challenging to find the right colour. A colour at home usually looks a bit purple, blue or brown when applied. Consequently, it is always a good idea to pick a few colours, swatch them at home, and order oversized swatches to see the colour in person before making a commitment.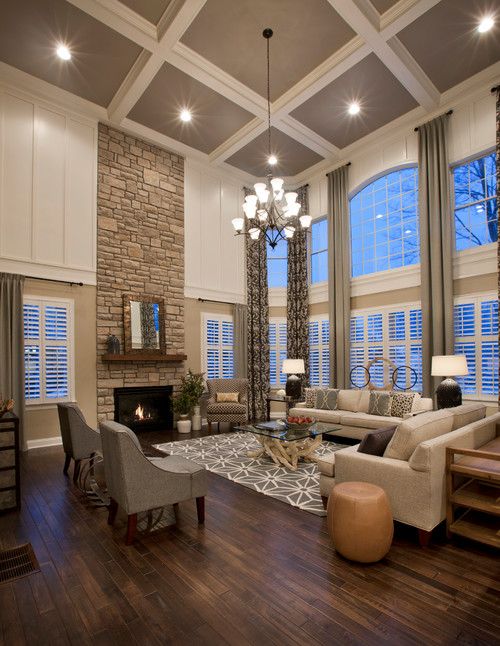 5. Ceilings as a True Accent
Sometimes a ceiling can be quite striking if it contrasts completely with the walls. For example, this living room has ceiling coves that are a deep espresso brown and walls that are somewhat warm, so they don't match at all. It's not easy to coordinate colours like this, but you can use several strategies to do it.
As one way to see how shades of the colours you are considering look next to each other on a long plank, you can swatch all of them together as stripes. You may find it helpful to begin with a suggested colour combination from a paint line, but in the real world, you will see how they look together in your ambient light when you see the hues at home.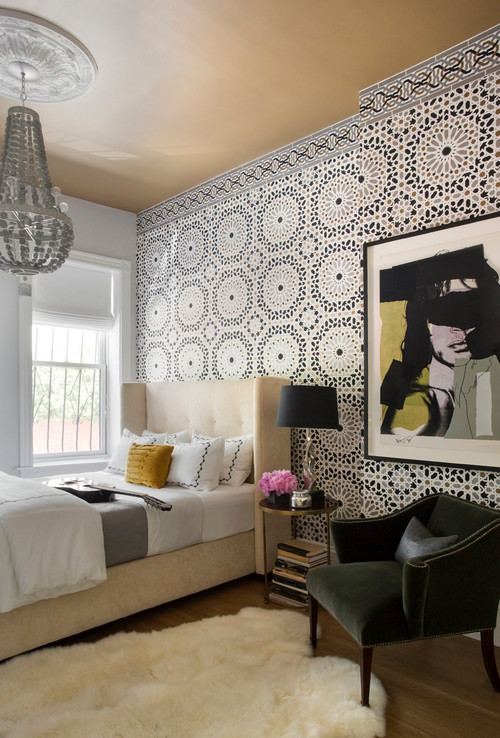 As a second tip, you might consider choosing a hue for the ceiling that is similar to that of the wall treatment so that it also matches that of the blank wall. In this case, the ceiling is actually the same colour as the wall treatment.
Alternatively, you can choose from an array of fabrics or artworks to create a similar shade by replicating the texture. However, keep in mind that this hue will be in an eye-catching position when on the ceiling, so pick the shade that is the most neutral to keep the room looking polished rather than messy.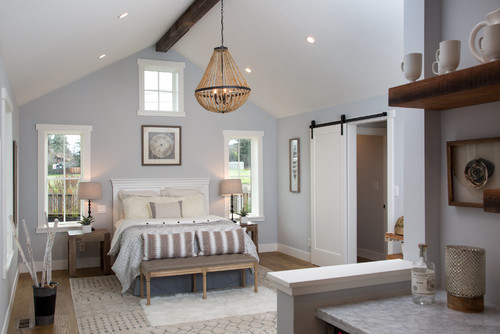 6. Crisp White Ceilings for Contrast
In order to achieve a positive contrast with the walls, let's go back to where we started and talk about pure white. A pure white ceiling can look perfect despite not matching the colour of the walls so far as the other elements in the room are white such as white linen and other accents.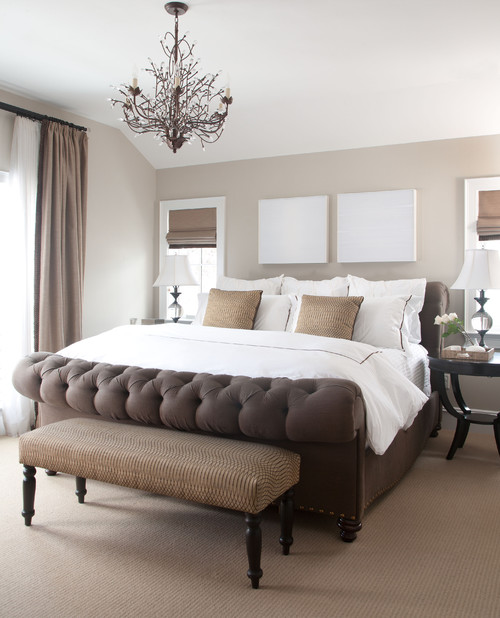 Having a pale beige wall paired with a bright white ceiling makes the wall colour stand out much more. By doing so, it gives this traditional townhouse a sense of freshness that wouldn't work in a less modern home, yet would give it the feel of something very modern.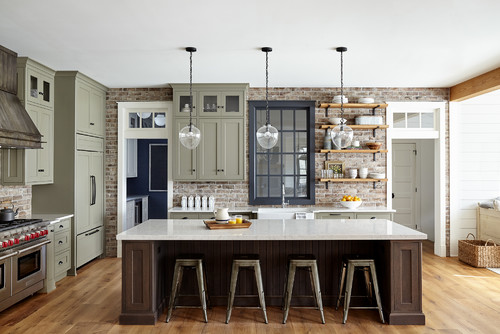 Having a purely white ceiling adds a touch of class and elegance to an otherwise plain space, especially if it is combined with a mix of warm and cool neutrals, such as the brick, wood, and even black window trims. The white acts as a middle ground between the diverse colours used in the room.
3 Questions to Ask Your Design Professional Before You Paint
1. What kind of paint finish are you going to use on the wall? (There are options that can highlight and others that can mask, so it's important to know what you are going to use.)
2. In addition, will you also paint the crown molding or ceiling medallions? If yes, what colour or finish will you use?
3. What kind of atmosphere will the colour of paint create? If you want a cozy feel, you might want to use darker colours. If you want an airy feel, you might want to use lighter colours.
Choosing the best paint colour for your home or business can be a daunting task without the help of a professional painting team. Contact the Goodwell Painting team today for a free consultation.